black angus
Known for their excellent milk production and mothering abilities, our Black Angus cows play an integral part in Stepaside Farm's cattle breeding program. Our program has two areas of focus: we produce top-quality seedstock. Black Angus is synonymous with high quality meat, and we breed our cows for this purpose.
Our Black Angus cows also play an integral part in our Wagyu breeding program. With the assistance of our experienced embryologist, we inseminate some of our Black Angus cows with Wagyu embryos, so these calves can enjoy more milk and quickly gain weight.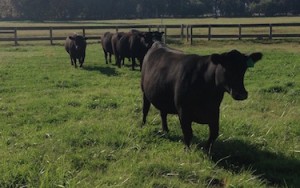 At Stepaside Farm, our cows and calves have full-time access to lush pasture and the abundant sunshine California is famous for. We take measures to minimize stress on calves including fence-line weaning. When we vaccinate and treat, we've made the process more pleasant for everyone using a hand-built curved chute designed by Temple Grandin.
At present, our program focus is on building our herd. We currently have a select number of animals to sell. If interested, please contact us for more information.